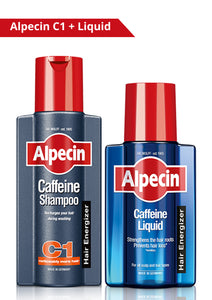 Strengthens hair during washing
For noticeably more hair
Helps to preserve hair growth and prevent hair loss
Stimulates the hair during washing
Based on the intentional omission of softeners (e.g. silicone), the hair structure improves with enhanced hair grip
Fine hair becomes stronger and can be styled better
Alpecin shampoo and liquid
I am absolutely satisfied with the results. I have been using this combination for quite a long time now, on so many patients with quite encouraging results.
Caffeine Shampoo C1 + Caffeine Liquid
Caffeine Shampoo C1 + Caffeine Liquid
Caffeine Shampoo C1 + Caffeine Liquid
Alpecin Caffeine Shampoo C1 (250ml) + Alpecin Caffeine Liquid (200ml)
HELPS PREVENT HAIR LOSS – The unique caffeine formula, when used daily for 2 minutes, protects the hair roots and stimulating hair growth.

FINE HAIR BECOMES STRONGER – Strengthens hair growth and by intentionally leaving out conditioning agents your hair is immediately provided with more volume.

AROUND THE CLOCK PROTECTION – When used daily for at least 2 minutes, the unique caffeine formula penetrates into the hair roots and built up a 24h depot. Then, fresh caffeine must be supplied. This is why a caffeine product must be applied every day.

MADE IN GERMANY – Made in Germany since 1930, backed with scientific research conducted by German scientists. Studies have also been conducted in collaboration with scientists and medical institutes around the world.

COMPLEMENTARY PRODUCTS – Both Shampoo and Caffeine Liquid should be used on a daily basis to provide the best protection and support for strong hair growth.
What causes androgenetic alopecia?
The testosterone surplus, which begins during puberty, makes beard hair grow on the one hand but also weakens predisposed hair roots in the scalp. Based on the hereditary disposition, the hair roots react supersensitively to testosterone (DHT). It cuts the energy supply, thereby weakening the hair roots. Their growth phases are shortened and their lifetime ends prematurely.
Normally, the hair root is active for up to eight years (growth phase), followed by a resting phase. The hair root releases the hair and it falls out without the threat of hair loss. Subsequently, the hair root starts another growth phase and does so about 14 times before dying.
Caffeine Shampoo C1
Aqua, Sodium Laureth Sulfate, Laureth-2, Disodium Laureth Sulfosuccinate, Sodium Lauroyl Glutamate, Sodium Chloride, Caffeine, Panthenol, Parfum, PEG-120 Methyl Glucose Dioleate, Hydrolyzed Wheat Protein, Citric Acid, Sodium Citrate, Menthol, PEG-40 Hydrogenated Castor Oil, Potassium Sorbate, Polyquaternium-7, Disodium EDTA, Sodium Benzoate, Zinc PCA, Niacinamide, Limonene, Tocopherol, Phenoxyethanol, Methylparaben, Propylparaben, CI 42090, CI 60730.
Caffeine Liquid
Aqua, Alcohol Denat., Parfum, PEG-40 Hydrogenated Castor Oil, Panthenol, Menthol, Caffeine, Zinc PCA, Niacinamide, Citric Acid, Limonene, Linalool, Tocopheryl Acetate, Butylphenyl Methylpropional, Citronellol, Retinyl Acetate.
Non-binding Information. Please refer to the ingredients list on the packaging.
Caffeine Shampoo C1
In just a short time, the active ingredient travels along the hair shaft where it unfolds its stimulating effect on the hair. Leave Alpecin Caffeine Shampoo C1 on for 2 minutes
Caffeine Liquid